REVOLT / Pogrom 7″EP + DOWNLOAD CORD from STRONG MIND JAPAN
release; 16 October 2016

幾重にも繰り返される大虐殺
異教徒を排除する全ての者達よ
死人の咆哮の前に跪け
from KEIZY – REVOLT
SAITAMA METALLIC CRUST HARD CORE!!!
2000年初頭から活動する埼玉メタリッククラストREVOLTが、DEMO 5作品(2001-2008)~アルバム2作品(2007,2010)~CRUST NIGHT COMP 2作品(2002,2004)~GRIND BASTARDS(2013)を経て、満を持して新作7″EPをリリース。
サウンド/歌詞/アートワークが三位一体となり、完成度の高い作品になっている。
約14分にも及ぶタイトル曲「POGROM」は2曲で構成されており、曲調が変化するタイミングでA面B面に収録。
※POGROM = ロシア語でユダヤ人虐殺の意味
重く切り刻むサウンドは、ANTISECT, AXEGRINDER, AMEBIX等からの影響下にありながらもREVOLT独自の解釈で消化され、KEIZYの悲痛な歌詞と叫びが突き刺さる。
宗教的要素の強いアートワークは、これまでのREVOLTの作品や他バンドのジャケットやTシャツも手がけるギター/ヴォーカルのKEIZYが担当。
ジャケットはツヤを排除したインク臭が漂う紙質を選択し、内側には彼の手書きのシリアルナンバーが記されている。
~結成より不変のメンバーは、LITTLE BASTARDS、ABSOLUTE ZEROでも活動中。
限定300枚 流通約200枚
日本製
ダウロードコード付属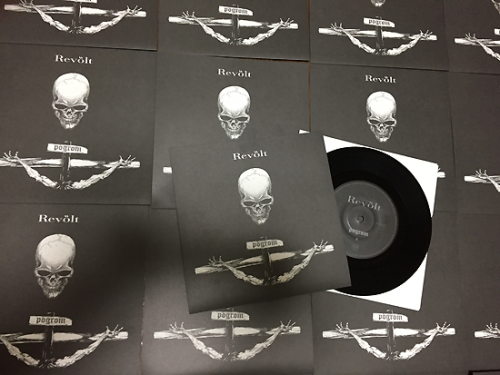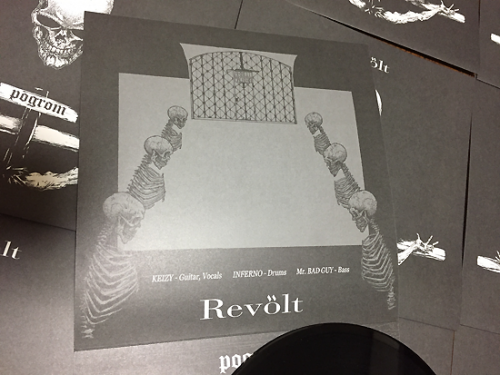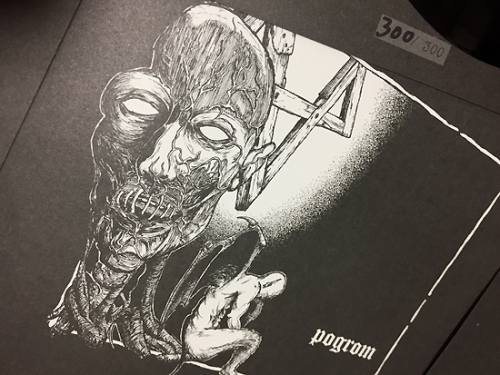 REVOLT – Discography
REVOLT/Metal Crusties Attack Demo vol.1,2,3,4,5 (2001,2002,2003,2007,2008)
REVOLT/Gate of Holocaust – 1st Album 12″LP (2007)
REVOLT/The Previous Night Of Doom – 2nd Album CD (2010)
VA/CRUST NIGHT Compilation 2002,2004 (2002,2004)
VA/GRIND BASTARDS Compilation (2013)
REVOLT/Pogrom 7″EP (2016) from STRONG MIND JAPAN
——————————
REVOLT / Pogrom 7″EP + DOWNLOAD CORD
from STRONG MIND JAPAN
"The massacre repeated many times"
"To all persons who exclude heathens"
"Kneel down in front of dead person's roaring"
from KG – REVOLT
In 2000, REVOLT was formed in Saitama, Japan.
Their sounds are crust,heavy,metallic.. called "Metallic Crust Hardcore", affected at Amebix,Anti Sect,Axegrinder,etc.
Those bands of a similar sound are Corupted,Effigy,SDS,etc..
This "Pogrom" 7 "EP is one theme that operates on 2 songs, the total recording time is 14 minutes!!
KG(Guitar/Vox) drew the strong artwork of the religious element, similarly works of conventional REVOLT.
And he wrote all handling Numers in all sleeves too.
Sounds, lyrics and artworks are integrated and it has become very high-quality finished work.
Band members are also active in LITTLE BASTARDS, ABSORUTE ZERO.
REVOLT – Discography
REVOLT/Metal Crusties Attack Demo vol.1,2,3,4,5 (2001,2002,2003,2007,2008)
REVOLT/Gate of Holocaust – 1st Album 12″LP (2007)
REVOLT/The Previous Night Of Doom – 2nd Album CD (2010)
VA/CRUST NIGHT Compilation 2002,2004 (2002,2004)
VA/GRIND BASTARDS Compilation (2013)
REVOLT/Pogrom 7″EP (2016) from STRONG MIND JAPAN
[Spec]
Cat No; STRONG-MIND-JAPAN-29-7EP
format; 7″EP + Download Code
release; 16 October 2016
Tracks; 2tracks. Total 14min.
MADE IN JAPAN (Toyo Kasei inc.)
Limited; 300 (now, quantity 200)