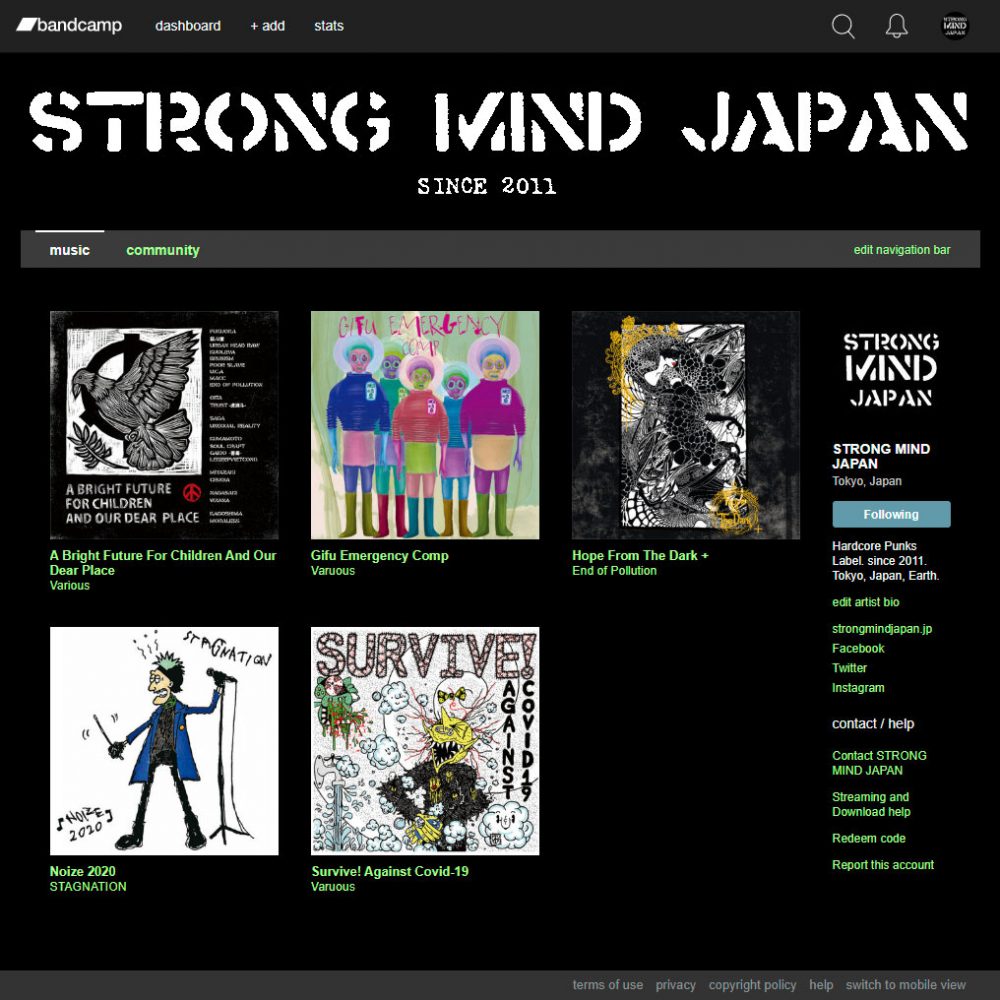 プロジェクトの中間報告でbandcampの中止をお伝えしましたが、6/1~6/6まで限定公開します。
プロジェクト期間中に海外から問い合わせが多数ありました。
大きな売上は見込んでいませんが、売上が発生した際の報告は、作品毎の担当者への振込をもってかえさせて頂きます。
またbandcampにアップするにあたって、下記の不具合の修正を行っております。
1. va/Survive! Against Covid​-​19…トラック1と2が逆→正常
2. End of Pollution/Hope From The Dark+…トラック7-16の速度が微妙に遅い→正常
—————–
Thank you for the many inquiries.
The "SAVE OUR LIVE HOUSE, LIVE HOUSE BENEFIT" project was launched in mid-April to save live music venues that are in financial difficulties due to the COVID-19 pandemic.
We decided on an area for each product and supported the live music venues.
In a short period of time, we sold CDs and donated all of our profits to live music venues.
On May 31, I released CD and the project was finished.
The label no longer has stock.
During the project period, shipping from Japan to many overseas countries was not possible.
5 works will be on public for a limited time.
Download sales will end at 23:59 JST on June 6.
When it becomes ready to ship from Japan, you can get copies through mail order at live music venues and record stores in Japan.
May 31, 2020.
—————–
The money will be donated to bellow.
STAGNATION / NOIZE 2020
Donated live music venues in Tokyo, Japan.
1 ANTI KNOCK
2 EARTHDOM
3 MOONSTEP
4 PitBar
5 ZONE-B
va / SURVIVE! AGAINST covid-19
Donated live music venues in Aichi, Japan.
1 LIVEBAR BOPPERS
2 DAYTRIVE & TRIM
3 SOUL KITCHEN
4 RAGSLOW
5 CLUB CHAOS
6 Miyako Tenshindo
7 VORTEX
va / Gifu Emergency Comp
Donated live music venues in Gifu, Japan.
1 ANTS
2 KING BISCUIT
3 MICRO GROOVE
END OF POLLUTION / HOPE FROM THE DARK +
Donated live music venues in Fukuoka, Japan.
1. public space Yojigen
2. KIETH FLACK
3. cafe and bar gigi
4. LIVE Cheers!
5. Kokura FUSE
va/A BRIGHT FUTURE FOR CHILDREN AND OUR DEAR PLACE
Donated live music venues in Kyusyu regions, Japan.
1 public space Yogigen
2 Kieth Flack
3 Kokura FUSE
4 Kurosaki Marcus
5 cafe and bar gigi
6 LIVE Cheers!
7 LIVE AND BAR WIPPINGPOST
8 SOUND GARAGE MONSTER
9 NAVARO
10 Studio Raja
11 AT HALL
12 GEILS
13 Speed King
—————–